Hotel Guidecca 2028

Part of the Unfolding Pavilion 2018, Giudecca Social Housing, Venice, Italy
In collobration with Emma Dunn, Zoé Renaud, and Roberto Damiani
The social housing complex designed by Gino Valle in 1980's in Venice represents an interesting precedent to analyze the evolution of Italian social housing design right before 1992. Compared to what Manfredo Tafuri highlighted as the four exemplary Italian social housing projects built between the 1960's and 1970's: Aldo Rossi and Carlo Aymonino's Gallaratese in Milan, Giancarlo De Carlo's Matteotti Complex in Terni, Vittorio Gregotti's Zen Complex in Palermo, and Mario Fiorentino's Corviale in Rome, Gino Valle's scheme was less interested in using architecture as a testing ground for social and formal experimentation. After twenty years of discussion around the relevance of the city fabric as stimulated by the School of Venice, Valle designed a social housing truly interested in anonymity and informed by a critical understanding of Venice's architecture typology and urban morphology.
Despite that, the design of the complex struggled with finding a proper answer to three issues around social housing design: how to provide financial support over time, enough room for change and adaptability, and a system of amenities and open spaces connected to the urban fabric. In the 1980's, when the Italian welfare state was still in place, and Venice was a city with a few hundreds tourists per year, those issues were not as evident and urgent as they slowly became after 1992 and the Maastricht Treaty, when European states lost the freedom of spending taxpayers money beyond any over-national control. After twenty years, the social housing complex is still lacking of a proper strategy to face the issues of financial support, adaptability, amenities and open spaces. In addition to that, tourism in Venice has been growing exponentially.
Every year, thousands of new visitors are putting local infrastructure under pressure and pushing away local residents. The Giudecca island remains one of the few areas in Venice where tourism has not drastically affected local lifestyle yet, but things are going to change, as suggested by the recent opening of a Hilton hotel in the Neo-gothic Stucky Mill. As a response to the on-going touristification of Venice and lack of resources to modernize Valle's social housing, our scheme for the 2018 Unfolding Pavilion is a new Hotel Giudecca. Rather than fighting tourism by implementing measures towards disminution like taxes, we propose to plan it and direct its profits towards making Venice more liveable for its least favoured remaining residents. In order to do so, the new tower-hotel will be run by a public-private agency with representatives from the community, constantly negotiating between social and capitalistic principles.
https://divisare.com/projects/390715-roberto-damiani-hotel-giudecca-2028
https://divisare.com/projects/388095-daniel-tudor-munteanu-sara-favargiotti-davide-tommaso-ferrando-xyz-unfolding-pavilion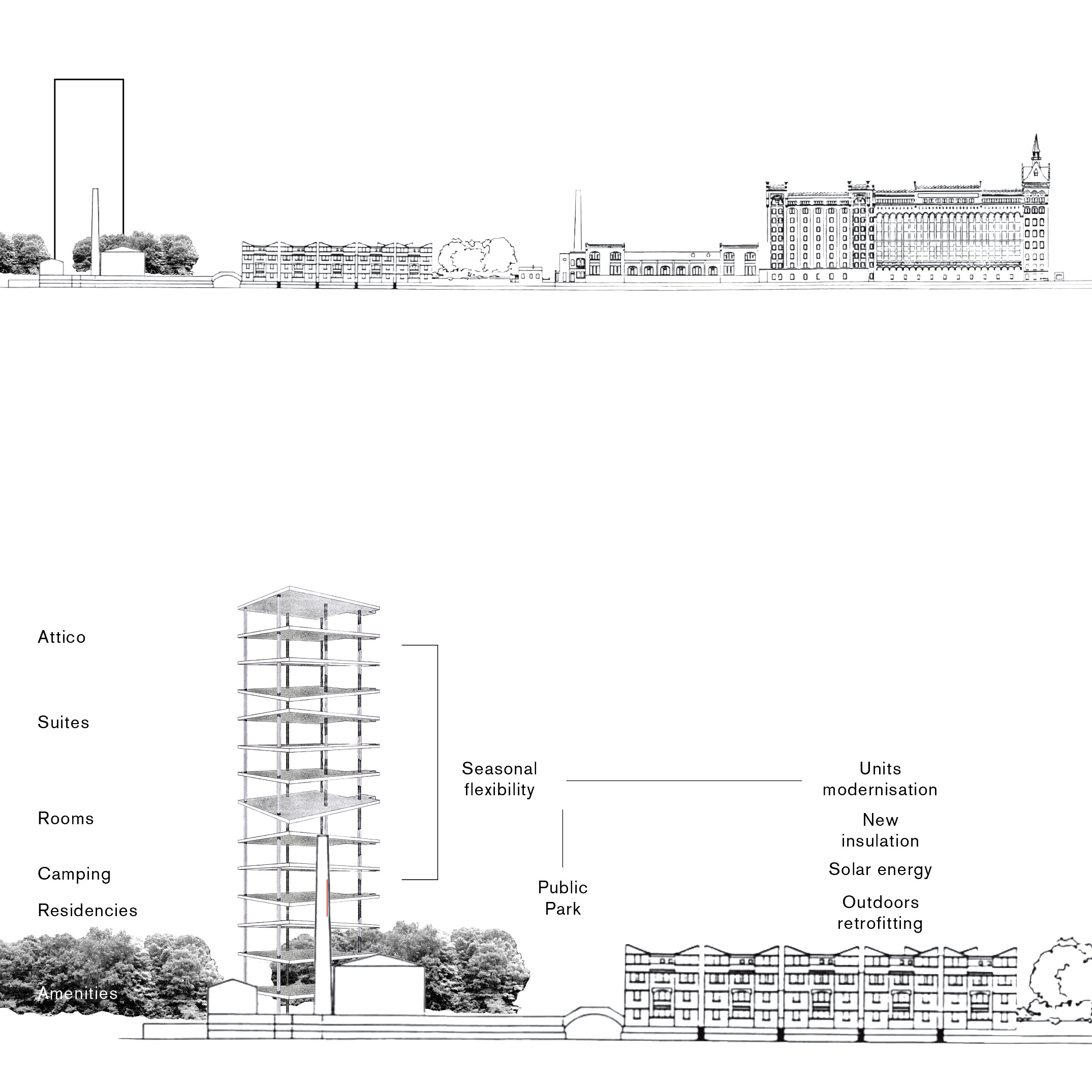 From a financial perspective, our strategy is to offset the revenues from the new hotel towards the Giudecca social housing complex. The revenues from the hotel will help to fund the new amenities, as well as retrofit the existing social housing complex. From Aldo Rossi's critique of Le Corbusier's mat building for the new Venice's hospital to the recent Cino Zucchi's housing projects in the Giudecca island, proposing new building typologies in Venice has encountered resistance. Valle saw the social housing complex as a conclusion of the floating fabric. His decision of providing each of the "carpet" units with its own view of the Adriatic sea did not leave many options for further additions to the complex. Therefore introducing a new building typology - such as a tower - seems to be the only option left to preserve residents views while providing enough density.

The lack of any human activity is striking when we go through the Giudecca complex pictures. We want to inject life into them providing the complex with new outdoor spaces and amenities. Taking advantage of the water as a mean of transportation, the Hotel Giudecca is designed as a simple framework with exposed structure and infills -from prefab units and partition walls for adaptable configurations-. Operating as an open-source social framework, the tower is programmed as such: the lower levels host a gym, a kindergarten, a communal floor with a communal kitchen, or any other kind of amenity needed in the community. An open-air market and allotment gardens surround parts of its ground floor to cater to both locals and residents. The middle floors host semi-permanent (from one year to a week) accommodations with more basic amenities such a kitchen, for a more grounded Venetian visit.

The top floor with a stunning view onto the lagoon host the hotel suites for short-term accommodations. With time and gradually incoming profits, the hotel slowly turns units into social housing towards transforming the tower into a co-op housing complex floating above the old decaying city. The long term profits are for the city and not the market, subverting the usual conclusion of private-public partnerships. As a sort of post-occupancy testimony, the proposal will show the hotel ten years after its construction, envisioning its impact on the community.









© 2020 Mina Hanna - Toronto, Canada